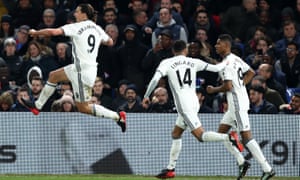 A ruthless streak has been restored to Manchester United's approach after all. José Mourinho had seen his team's dominance yield only draws too often of late, but here they did what this club used to do as a matter of course. This win was chiselled from the visitors' most dominant period of play, the winner created by the contest's most influential performer and scored by a forward who has always delighted in stamping his influence all over occasions such as this.
Paul Pogba capitalised on Yohan Cabaye's slip two minutes from time to gain possession and consider his pass, sliding his delivery beyond Scott Dann and along the edge of the penalty area. There darted Zlatan Ibrahimovic, timing his diagonal run perfectly, with his finish dispatched crisply beyond the on-rushing Wayne Hennessey from an unkind angle and into the net. it was more fortunate for Manchester united as a handball and offside were missed in the first-half for Paul Pogba's opener and then in the second-half a handball was missed and the flag was erroneously raised.  Officials are bound to make errors but it is happening at a staggering amount of times in United's fixtures. The farcical FA could not be bothered to retrospectively ban West Ham's Adrian for his crude challenge on Ibrahimovic in the EFL Cup tie and it is just a surprise Mourinho has not yet uttered the word 'campaign' in relation to the numerous mistakes.
It was an eighth goal in as many games for the Swede, whose influence on this side should not purely be measured in terms of that impressive tally. "I told him this isn't the best place to play if you're looking for holidays," said Mourinho. "When a rich guy who has already had a phenomenal career wants holidays, he doesn't come to play in England. It's the most difficult league in the world, so if you come here you want to show what you can do. That's what he did. It's not just about goals. It's about leadership and motivation, and I'm so happy with what he's done. I knew his character and, at his age, he's a character. A personality. Because he has the passion to play."
That Mourinho hurtled onto the pitch to congratulate his players highlighted how potentially pivotal the victory could be. It might be the turning point.
Poor performances from Juan Mata have been rarer than a calm Marcos Rojo tackle and his ineffectual efforts against Crystal Palace were badly timed.
With Henrikh Mkhitaryan now regarded as a first-teamer, Mata had a chance to capitalise on the Armenian's injury and remind United supporters just why many regard the Spaniard as the club's player of the season so far.
At Selhurst, a ground United used to practically take over, the away support was well on top. Palace require a megaphone and a drum to increase the decibels but could not match United's incessant chanting. Wes Brown, George Best, Cristiano Ronaldo, Jaap Stam, Roy Keane and Ole Gunnar Solskjaer were all serenaded raucously at 1-0.
I liked a @YouTube video from @mrflyingpighd https://t.co/L7AiXnzncy Crystal Palace VS Manchester United 1-2 Pogba and Zlatan Goals

— Akrinnatus (@akrinnatus) December 15, 2016
Manchester United: Have won a Premier League away game in London for the first time since May 2015 (also vs Crystal Palace) #CRYMUN

— WhoScored.com (@WhoScored) December 14, 2016