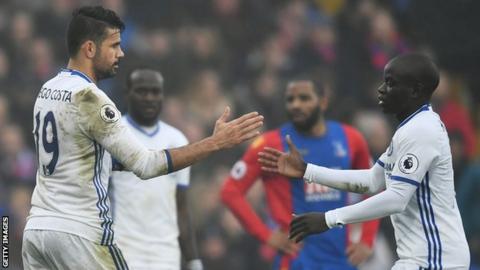 If your name is N'Golo Kante, there is a good chance you have "win a game of football" pencilled into your diary at regular intervals. It's not been a bad first 18 months in the Premier League for Kante – a championship title with Leicester City, a £30m move to Chelsea and now top of the table at Christmas.
The all-action Frenchman also has another feather for his cap – he has the best winning ratio of any current Premier League player with more than 50 appearances to his name.
Kante has won 37 of the 54 Premier League games he has featured in – that's a 68.5% win percentage. The next closest is Arsenal's Nacho Monreal with 64.6% and then Manchester City's Yaya Toure and Arsenal's Petr Cech with 64.5%.
Kante has been receiving rave reviews for his central midfield performances, and his win rate would suggest he is one of the league's most important players. The 25-year-old was "100%" the best player in the league last season, according to former Leicester and Chelsea goalkeeper Mark Schwarzer. "he is an incredible player. His engine is unbelievable. He was top of everything stats-wise last season and does the job of two players," he told BBC Radio 5 live on Friday.
"Kante is not a player to score goals but he will win games for you and do more for you than some of the superstar forwards." So, if Kante is the Premier League's current lucky charm, who is top of the all-time list for winning percentages?
That title goes to Arjen Robben, who won 55 of his 67 top-flight games with Chelsea between 2004 and 2007 to secure an incredible 82.1% win rate.
Kante appears at a respectable ninth on the list, behind some more left-field names such as former Chelsea full-back Paulo Ferreira (72.3%) and ex-Manchester City midfielder Javi Garcia (69.8%).